IMPROVE THE APPEARANCE AND EXTEND THE LIFESPAN OF YOUR OFFICE FURNITURE.
With the recent pandemic, people are now more conscious of health and safety in shared indoor spaces. Business owners, office managers and facility managers must be able to trust commercial cleaning service companies to keep their facilities clean and disinfected.
Regularly cleaning and disinfecting thoroughly and consistently is important to prevent the spread of illnesses at work and in public places. It is crucial to maintain a routine of cleaning and disinfecting to ensure a safe and healthy environment. To effectively stop the transmission of illnesses, you must carry out these processes thoroughly and regularly. By regularly cleaning and disinfecting, we can minimize the risk of spreading illnesses both at work and in public spaces.
Many of us spend most of the day in our office chairs. Yet, how often do we think of cleaning and disinfecting them? Or the fabric panel screens, conference room chairs and receptions area couches?
Cleaning reception furniture and fabric panels can make the environment healthier for everyone. Keeping the reception area clean and hygienic is important because it is where visitors and employees first interact.
Maintaining a clean and healthy reception area is essential for several reasons. Firstly, it creates a positive impression on visitors, reflecting the professionalism and attention to detail of the organization. A clean reception area creates a more positive atmosphere, making everyone's experience better, including employees and visitors.
Cleaning the furniture in the reception area involves more than just dusting off the surfaces. Regularly vacuuming and deep cleaning the upholstery can help remove dirt, dust, allergens, and bacteria that may have accumulated over time. This not only improves the appearance of the furniture but also eliminates potential health hazards.
Fabric panels commonly found in cubicles, or partition walls, also require regular cleaning. These panels can easily trap dust, dirt, and airborne particles, which can negatively impact indoor air quality. Regular vacuuming, and the use of specialized fabric panel cleaning solutions, can effectively remove these contaminants. This is a positive step towards reducing the risk of respiratory issues and allergies among employees and visitors.
A clean workplace environment can have a positive impact on the health and well-being of everyone in the office. Dust, allergens, and bacteria can easily accumulate on furniture and fabric panels, leading to respiratory problems, allergies, and other health issues. Regularly cleaning surfaces reduces illness and discomfort, creating a healthier and more productive work environment.
ServiceMaster of Vancouver Commercial Services takes the necessary steps to clean reception area furniture and fabric panels and other soft surfaces. Creating a healthier environment for everyone.
Regular maintenance and cleaning improves the appearance of these surfaces. It also helps to eliminate potential health hazards. Commercial soft surface cleaning and office chair cleaning services offer a higher level of protection from the spread of illnesses.
The overall appearance of your facility improves greatly with upholstery cleaning and office chair cleaning. Cleaning upholstery and removing dirt, dust, and allergens from other office furniture and fabric panels fosters a healthier workplace. The result is a more productive and positive business atmosphere.
ServiceMaster of Vancouver Commercial Services has developed very efficient solutions and methods for cleaning upholstery and office furniture. We have vast experience in cleaning and sanitizing a broad range of fabric types. We use approved products and methods to clean and sanitize your office furniture and fabric panels according to manufacturers' recommendations.
Our skilled technicians effectively remove dust and dirt from upholstery, fabric panels, and furniture. They can do this in all types and sizes of offices and facilities. We are also able to remove most stain spots and soil buildups.
We conduct our cleaning services for items such as chairs, couches, and partitions on-site. Our techniques are thorough and efficient and usually leave your office furnishings ready for use the next morning.
Trust ServiceMaster of Vancouver Commercial Services for personalized upholstery and office furniture cleaning that meets your needs and budget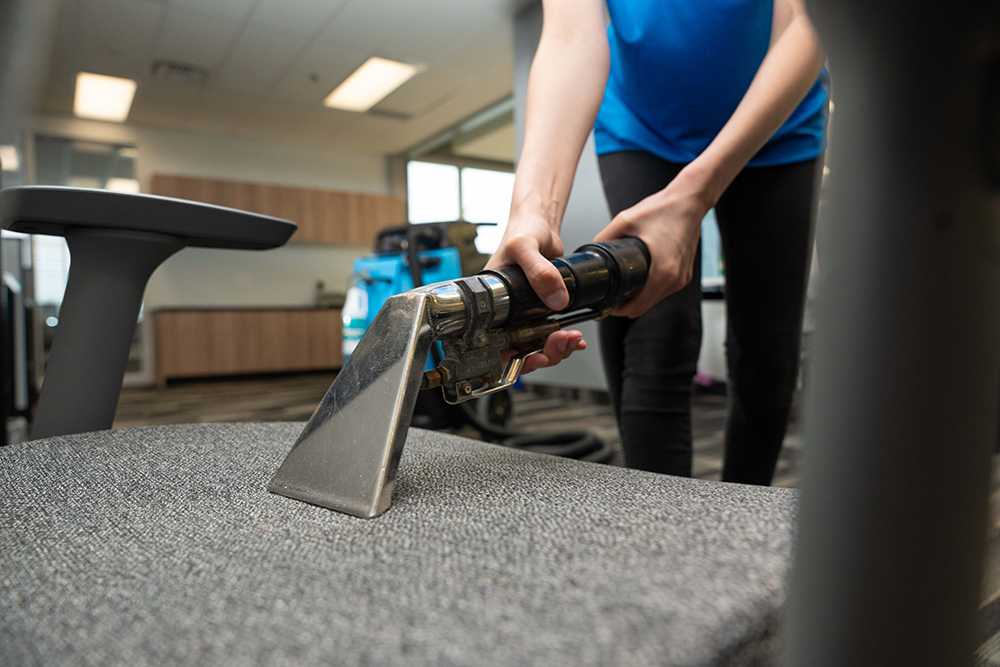 AVOID THE COST OF REPLACEMENT
Our experts at ServiceMaster of Vancouver Commercial Services will clean and protect your office furniture and fabric panels using advanced techniques, tools, and products. This will make them last longer and look almost new again
OFFICE FURNITURE CLEANING SERVICES BENEFITS
Removal of dust and allergens for a healthier business and workplace indoor environment
Cleaning and disinfection of office chairs and other furniture and upholstery to reduce risk of disease transmission
Expert evaluation of the upholstery fabrics in your office or facility to ensure the safest cleaning method
Pre-spot treatment for heavy staining
On-location cleaning and disinfection done at your convenience
Expertise and specialized equipment and products to clean, sanitize and disinfect every type of fabric and upholstery
Did You Know?
What are your rates?
All jobs are priced according to task, whether it is daily office cleaning, commercial facility cleaning services, regular carpet cleaning or a one off heavy duty clean. We then take into account variations such as equipment and materials used, employee density, traffic density, etc. in calculating the final cost. We would be happy to work with you to develop a customized cleaning plan that suits your needs. Click here to view our pricing pages.
How do you maintain worksite quality?
The ServiceMaster Clean Quality Assurance Program is designed to establish a continuous method of evaluating and monitoring janitorial services. The program is tailored to suit various types of complex office buildings, plants, schools, malls and healthcare facilities. ServiceMaster of Vancouver Commercial Services can assure you that your premises will benefit from the highest level of quality control available at all times by combining highly trained staff with state-of-the-art software driven technologies that allow stakeholders to communicate concerns in real time.
How do we get started with ServiceMaster of Vancouver Commercial Services janitorial services?
ServiceMaster Clean makes it easy to get started. Simply click here to complete our contact form or give us a call at 604-239-3031. One of our representatives will set up a time with you to review your commercial cleaning requirements and develop a customized clean program that suits your needs.