We are the commercial cleaning experts.
Welcome to ServiceMaster of Vancouver Commercial Services
Your office, facility or business environment is a true representation of the image your company wants to portray in their industry. In this time of ever increasing overhead costs, many companies are focused on creating healthy workplaces for a sustainable future. ServiceMaster of Vancouver Commercial Services specializes in facilitating healthy workplaces by maintaining and protecting your investment at the same time.
ServiceMaster of Vancouver Commercial Services has been servicing commercial buildings and businesses for over 18 years providing " the clean you expect and service you deserve." We are proud to provide Restorative Carpet Care and Preventative Maintenance Programs to Vancouver's downtown core, west-side, north shore and west Vancouver. Our facility is centrally located in Burnaby with our sister company ServiceMaster Restore of Vancouver, who provides emergency restoration services for water and fire damage.
Our range of services includes: Commercial Carpet Cleaning, Upholstery & Fabric Panel Cleaning, and Hard-surface Floor Cleaning/Waxing. We also have a variety of other services that include Post Construction Clean-up for clients enduring the renovation process. ServiceMaster of Vancouver Commercial Services is a leader in the commercial cleaning Industry. We provide our customers with a strong knowledge base, expertise in dealing with almost every cleaning situation and quality of workmanship. We do this by having experienced and skilled technicians who follow the latest manufacturer approved methods, products and services.
At ServiceMaster of Vancouver Commercial Services customer satisfaction is very important to us and that's why we have developed TellServiceMaster an on-line Customer Service Survey. Our customer's feedback is important for us in order to maintain an exceptional level of office cleaning services. We have a high commitment to excellence for our workmanship and customer service. Every job is handled professionally with clear communication, a thorough pre-inspection and afterwards a follow-up call or inspection. Our goal is to have our skilled technicians provide an "ordinary task with extraordinary service."

ServiceMaster of Vancouver Commercial Services believes that "a Healthy Business is a Strong Business."
That's why we are committed to using products that are environmentally safe and have been approved and certified by Green Seal and EcoLogo™. The product we use is GREEN FOR™ Carpets, which removes soil, stains and allergens from your carpets without the use of toxic chemicals. GREEN FOR™ Carpets leaves nothing harmful in the carpets after cleaning and is safe for all occupants in the office including individuals with asthma and chemical hypersensitivity. ServiceMaster has embraced this development because we are concerned about improving the air quality for the people that work and live in the environments we clean. For more information on Environmental Stewardship and how to get your business to GoGreen and even earn LEED® points click HERE.
We accept payment by Paypal, MasterCard, Visa, Wire transfer and cheque.
PREVENTATIVE CLEANING AND DISINFECTION SERVICES
For years, ServiceMaster of Vancouver Commercial Services have been the experts in creating clean, safe and healthy workplace environments. Our experience and training afford us the ability to promote safe practices for infection prevention within all businesses.
In these unprecedented times, we are ready to respond with effective and customizable solutions. ServiceMaster of Vancouver Commercial Services provides a full range of cleaning and disinfection services that will help to keep your workplace healthy and productive.
GET A FREE ASSESSMENT
COVID-19 FAQs
What is an emerging infectious disease?
The Centers for Disease Control and Prevention (CDC) defines infectious diseases as "illnesses caused by germs (such as bacteria, viruses, and fungi) that enter the body, multiply, and cause an infection." Depending on the disease, there are different ways that it can be spread:
From one person to another
Through germs carried in air, water, food, or soil
By insects, ticks, or animals
Emerging diseases are infections that have increased recently or are threatening to increase in the near future. These infections could be
Newly discovered
Completely new to an area
Reappearing in an area
Caused by bacteria that have become resistant to antibiotics
Source - https://www.cdc.gov/ncezid/who-we-are/about-our-name.html
MORE COVID-19 FAQS
News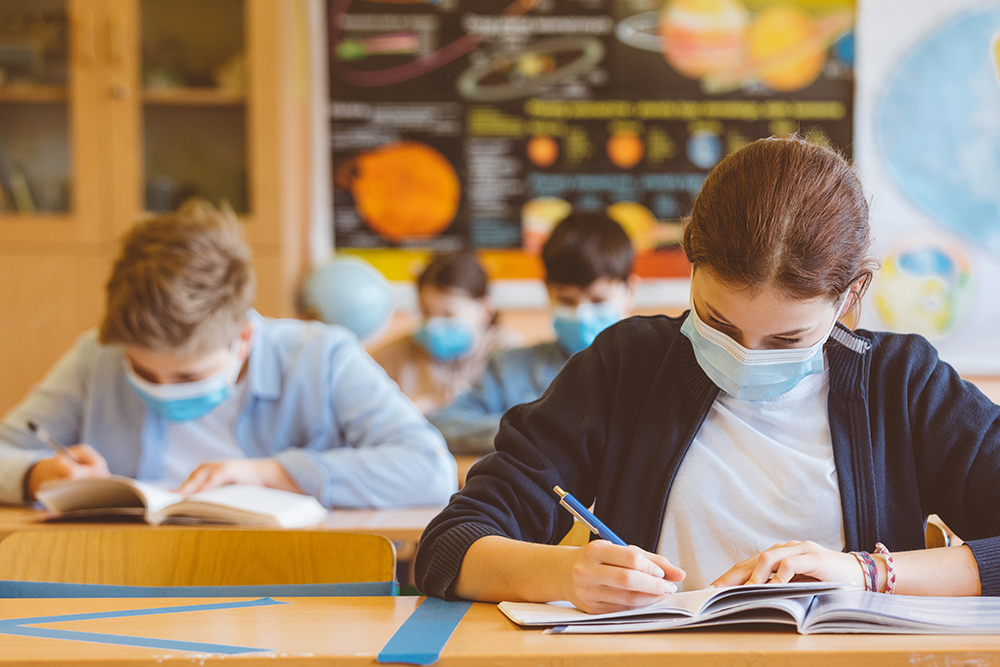 The Facts On Disinfecting Schools
School administrators are facing perhaps their most difficult fall season ever. Getting back to school has never been more uncertain or complicated. Ensuring the safety of students and faculty during the COVID-19 pandemic has raised some challenging questions, many of them about cleanliness and disinfection. Infection control in schools is always a concern because of influenza and bacteria such as MRSA and C. diff, but COVID-19 presents new questions. Principals and school boards are seeking information and they often turn to commercial cleaning professionals for the answers.
ServiceMaster of Vancouver Commercial Services
#100, 8155 North Fraser Way
Burnaby, BC, V5J 5M8
Tel: 604-239-3031
Email: clean@servicemaster.bc.ca
---
Introducing the ServiceMaster Clean Protect-3 AdvanceTM system!
The Protect-3 Advance system is ServiceMaster Clean's answer to help our customers protect the health and safety of their facilities, not only today but into all the coming days. This exclusive, proprietary program integrates state-of-the-art equipment to not only deliver the best cleaning and disinfection solutions to our customers but also provides scientific validation that we have done just as we promised – delivered a clean, healthy and safe commercial facility!
About Us
Your Commercial Cleaning Specialists ServiceMaster of Vancouver Commercial Services has the knowledge, expertise, quality service and reputation throughout the Commercial Cleaning Industry you expect and deserve. Whether you are restoring the appearance of your business or want to maintain ea
Commercial cleaning services to suit every budget. Our plans start as low as $250 per month - whether you need daily commercial carpet cleaning, office furniture cleaning or specialty commercial cleaning. Depending on your specific requirements, we will work with you to develop a plan that suits your needs, and your budget.
Guaranteed Service
No other vendor offers the quality of service and degree of commitment as consistently or as affordably as ServiceMaster Clean. We are so confident in our performance, we guarantee it!
Our expertise, dedication and value-added services make us the best commercial cleaning choice for your business.
Get A Free Assessment