CARPET RESTORATION AND MAINTENANCE
Your office or commercial facility's appearance and cleanliness are the first impression your company gives to customers and guests. Your carpet plays a big role in this. ServiceMaster Clean offers professional commercial carpet cleaning, carpet restoration and maintenance services. These services help keep your business looking great and ensure that you get the most out of your carpet.
ServiceMaster Clean has been providing exceptional service in the commercial carpet and office carpet cleaning industry for 70+ years. We have a great reputation due to our knowledge and dependability. We are dedicated to exceeding our customer's expectations by providing great and reliable service every time.
Trust ServiceMaster of Vancouver Commercial Services to have the solutions for all your commercial carpet cleaning and carpet maintenance requirements. We offer ongoing commercial carpet cleaning programs to suit all types and sizes of buildings and facilities. We are top commercial carpet cleaners. We will take good care of your carpet and make it last longer.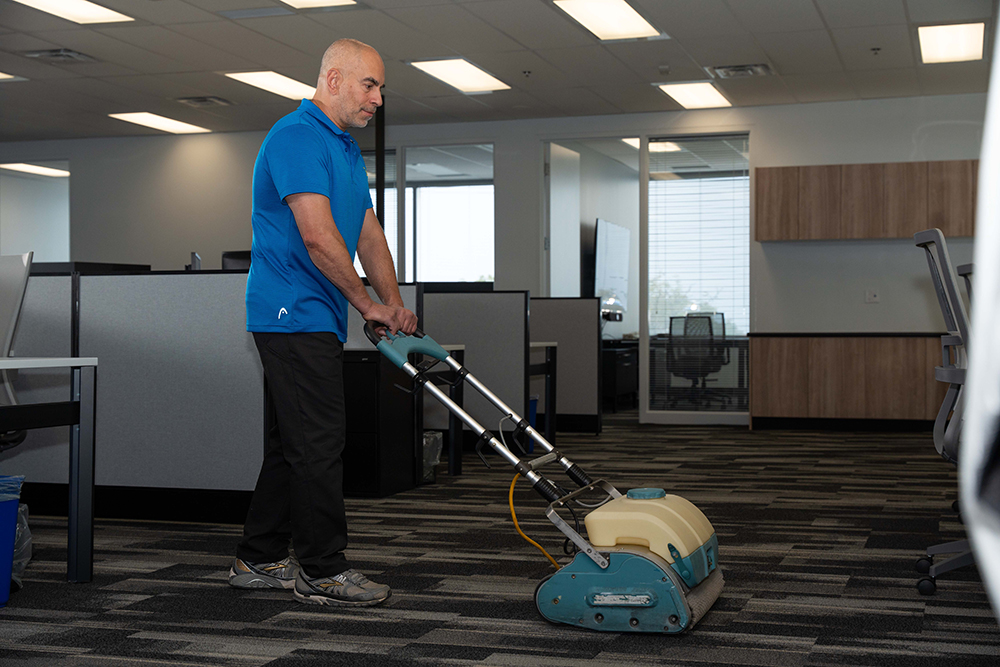 IMPROVE YOUR ROI WITH REGULAR COMMERCIAL CARPET CLEANING
Occasional care will temporarily improve the overall appearance of your commercial carpet. However, soil build-up between sporadic business carpet cleanings can permanently damage carpet fibres.
Our skilled commercial carpet cleaners will regularly clean your carpet, removing dirt and making it look beautiful. This will also make your carpet last longer and be cost-effective.
Enjoy a better-looking carpet and increase its lifespan, all for a low monthly cost. Our manageable monthly fees eliminate surprises or increased costs from one cleaning to the next.
COMMERCIAL CARPET RESTORATION
Soil is the natural enemy of carpet. It damages carpet fibres by adhering to the sticky residue left behind from daily activities. This residue includes dirt from shoes as well as food or coffee spills. Without proper cleaning, carpet fibre damage leads to fading, discolouration, matting, fraying and ultimately to premature and costly carpet replacement.
Regular commercial carpet cleaning keeps your carpet looking good, but a yearly deep clean will make it last longer.
You should schedule professional carpet cleaning at least once a year. This will help remove dirt buildup, especially in high-traffic areas of your office or facility.
Our carpet restoration teams at ServiceMaster Clean have developed proven cleaning methods and products over our 70+ years in business. We are a top commercial carpet cleaning company. Our equipment and processes are state of the art and our knowledge base is regularly updated by leading carpet manufacturers. We can create a commercial carpet restoration program to suit your specific facility, and your budget.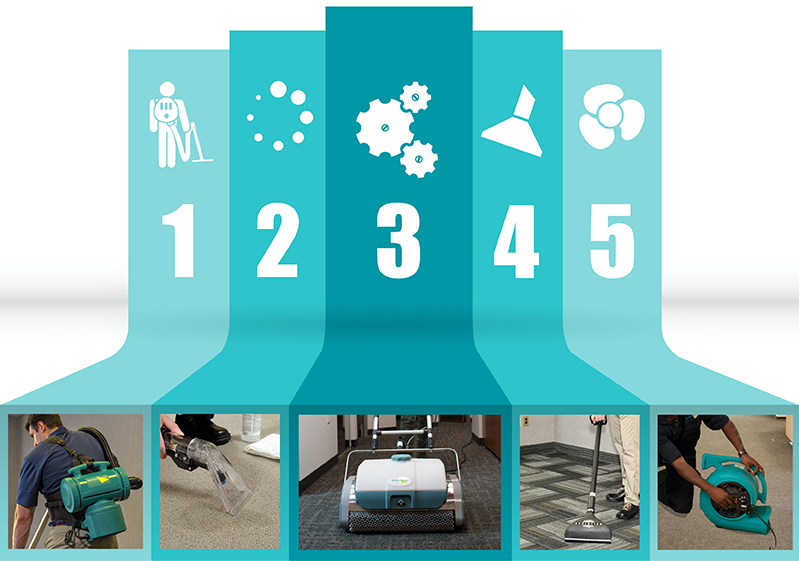 FULL CARPET RESTORATION IS A FIVE-STEP PROCESS:
Deep Vacuuming
Spot and Stain Removal
Machine Agitate With Cleaning Solution
Hot Water Extraction
Expedited Drying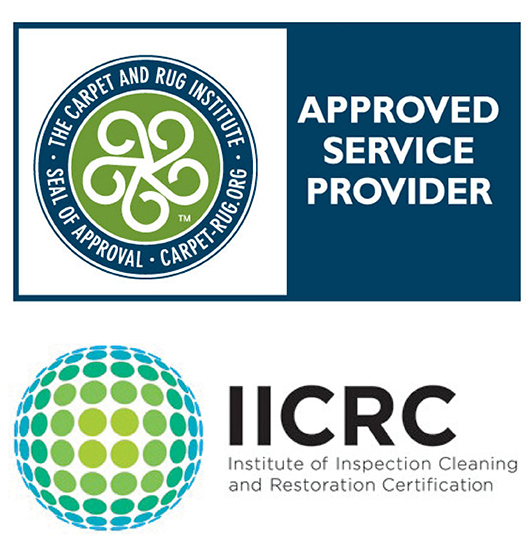 PROFESSIONAL COMMERCIAL CARPET CLEANING DONE RIGHT
As a leading commercial cleaning services company, ServiceMaster Clean adheres to the Institute of Inspection Cleaning and Restoration Certification (IICRC) and CRI (The Carpet and Rug Institute) standards for professional commercial carpet cleaning. Our carpet care technicians are trained and certified in how to properly clean and maintain your carpet.
All of our commercial carpet cleaning and carpet restoration packages use our specialized equipment and proprietary products. We update our carpet care and cleaning methods to follow guidelines from carpet manufacturers and the IICRC. Our equipment and products are approved by the CRI.
To keep our commercial carpet cleaning methods up to date, we have long-standing relationships with top carpet manufacturers.
COMMERCIAL CARPET CLEANING: FOR THE HEALTH OF YOUR OFFICE
Did you know that maintaining clean commercial carpet helps keep your workplace healthy by improving the indoor air quality?
Many people view a yearly or bi-yearly carpet restoration process as an efficient way to clean commercial carpets. However, it's crucial to think about the enduring health advantages of a consistent office carpet cleaning and maintenance plan.
Regular professional commercial carpet cleaning reduces overall soil levels in your carpet and helps maintain healthy indoor air quality of your commercial facility.
Regular commercial carpet cleaning helps your carpet last longer. It also reduces air pollution indoors because carpets trap dust and other particles. If not removed, particles can be released back into the air.
Encapsulation Cleaning
Interim commercial carpet cleaning uses less cleaning solution and less water compared to regular carpet extraction. Encapsulation cleaning is eco-friendly and dries carpets faster, preventing mould growth.
The benefits of encapsulation commercial carpet cleaning include:
More environmentally friendly than many other carpet cleaning methods
Energy savings
Reduced water consumption
Greatly reduced drying time
Prevention of mould growth
Better looking carpet, consistently
Regularly cleaning your carpet is important to maintain and extend its lifespan. This includes interim encapsulation and annual or bi-annual extraction in high traffic areas.
ServiceMaster of Vancouver Commercial Services has been on the cutting edge of technological changes and innovations in carpet and office cleaning services. We provide customers with sustainable, chemical-free cleaning products, interim encapsulation commercial carpet cleaning processes and low-moisture equipment. Our customers value the knowledge and expertise offered by our 70+ years in the office cleaning and commercial carpet cleaning industry. You can depend on ServiceMaster of Vancouver Commercial Services to keep your commercial carpet looking clean and attractive for years to come.
Did You Know?
Are all your employees background checked?
We recognize that security and trust are a paramount concern, so at ServiceMaster of Vancouver Commercial Services we have taken an added step to help ensure compliance with customer needs by developing the Clearance Chek'd certification program to help preserve the peace of mind of our customers. Clearance Chek'd is a high-level Police and Criminal Record Check combined with Identity and Previous Employment Verification. Janitorial staff working on your cleaning program will have (ID verified & clean criminal record) clearance via this Program.
Can we contact you outside office hours in case of an emergency?
ServiceMaster of Vancouver Commercial Services will provide you with a live-answer, emergency phone number so that we can help you with any emergencies that may arise 24 hours a day, 365 days a year.
Do you supply everything required?
We supply all the labour, equipment and materials required to carry out the tasks as would be outlined in our agreement with you. You may also exercise the option of having us provide various consumable goods for your facility such as toilet paper, paper towels, hand soap, etc. at their added cost.