How to disinfect your office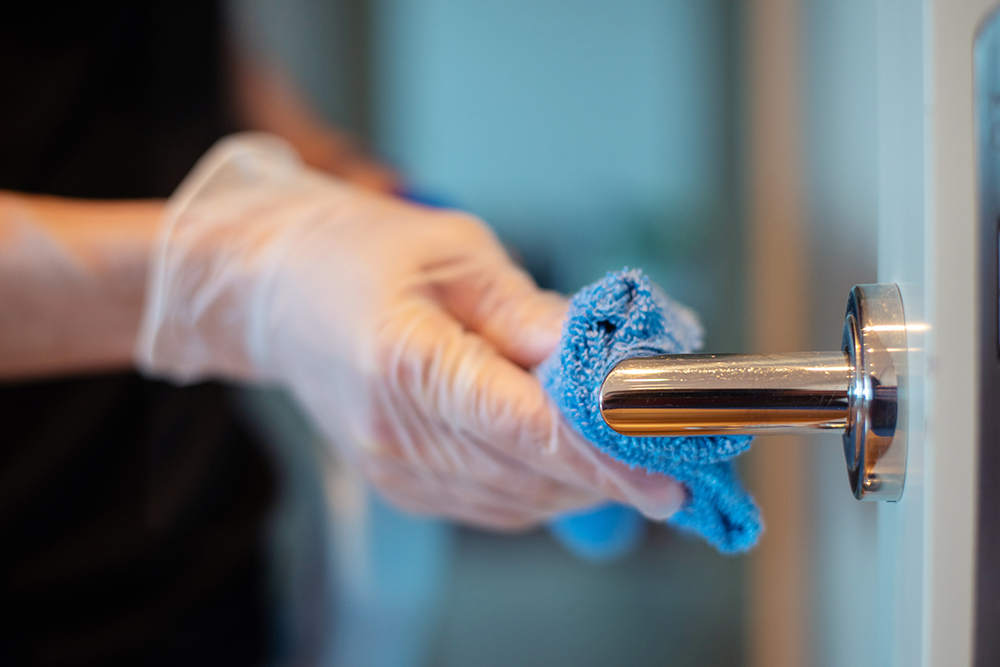 The coronavirus pandemic has changed how we clean, disinfect and sanitize workplace environments. With the continued spread of the virus and the upcoming flu season, it is more critical than ever to ensure that offices and other workspaces are healthy and safe for all employees and visitors.
The key to reducing the risk of disease transmission in indoor work environments is frequent and regularly scheduled cleaning and disinfection of all surfaces. Although scientists don't know exactly how long the COVID-19 virus lives on different surfaces, evidence suggests it can live on objects and surfaces from a few hours to days, depending on the type of surface.1
High-touch surfaces, those frequently touched by hands, are the most likely to be contaminated, and these include doorknobs, handrails, elevator buttons, light switches, cabinet handles, faucet handles, tables, countertops and electronics.
Business owners and office managers in all sectors are reviewing their existing protocols and procedures for cleaning and disinfecting offices and other work areas at their place of business. They also rely on commercial office cleaning companies that have the expertise and resources to do the job thoroughly and properly, to provide the high standard of cleaning and sanitizing required to help prevent infectious disease transmission in the workplace.
Not all office cleaning companies are alike. Look for one that uses disinfectants approved by Health Canada and meet the requirements under the Workplace Hazardous Materials Information System (WHMIS) for the use of hazardous products in the workplace.1
Workplaces that are open may currently be experiencing increased frequency of operating schedules and shift rotations, and require solutions to help meet the heightened standards of cleaning and disinfection. In response, commercial cleaning companies are employing advanced technologies such as disinfectant fogging and electrostatic disinfecting, particularly in larger facilities and those with difficult to reach areas.
To further address new heath and safety concerns as businesses and facilities reopen, ServiceMaster Clean has designed an innovative science-based PROTECT-3 ADVANCE™ program, as part of its Healthy Office initiative, to provide comprehensive cleaning and disinfecting services, including anti-microbial continuous preventative protection, for facilities of all types and sizes.
A crucial feature of the program is ATP testing, a technology that measures the amount of organic matter on a surface, to show the measurable results before and after cleaning and disinfecting procedures. This technology has been used in healthcare environments for decades because it validates the effectiveness of cleaning and disinfection at a micro level.
ServiceMaster Clean is aligned with Health Canada recommendations and has the experience and resources to implement effective cleaning and disinfecting protocols to help prevent outbreak and spread of infectious disease within offices and business facilities of all types and scale.
Tips for keeping your office healthy and safe this season:
Ensure your office has a regular and frequent professional cleaning and disinfecting schedule that meets the timelines and requirements at your workplace.
Pay particular attention to surfaces that are most often touched by hands, such as door handles, handrails, elevator buttons, light switches, cabinet handles, faucet handles, tables, countertops and electronics.
Establish protocols and precautions to respond in the event an employee or visitor develops

COVID

-19 symptoms at your site.
Read and follow manufacturer's instructions for safe use of all cleaning and disinfection products.
Use only approved disinfectants that have a Drug Identification Number (

DIN

). A

DIN

is an 8-digit number given by Health Canada that confirms the disinfectant product is approved and safe for use. If an approved disinfectant isn't available due to supply issues, use a diluted bleach solution.


1. https://www.canada.ca/en/public-health/services/publications/diseases-conditions/cleaning-disinfecting-public-spaces.html