Taking Steps to Reduce the Risk of Cross-Contamination at Work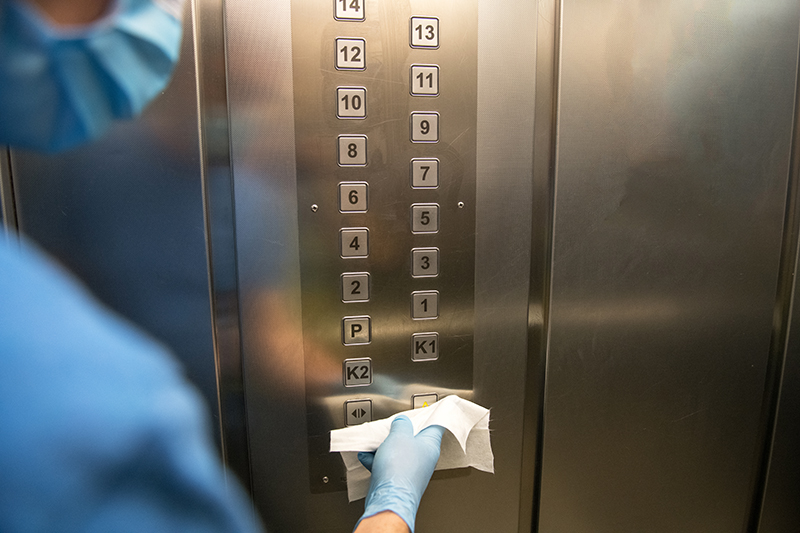 The risk of contracting and spreading pathogens, including COVID-19 can be a very real concern in the workplace. All levels of government have put stringent guidelines in place that have either shut down businesses temporarily or have outlined operating procedures to keep workers safe during this time.
With a high percentage of individuals (up to 25%) with COVID-19 who will not show symptoms according to Dr. Robert Redfield, the director of the U.S. Centers for Disease Control and Prevention, these individual may unknowingly transfer the illness to co-workers. Prioritizing vigilance in controlling the spread of illness in commercial facilities is therefore at the top of the list, and steps need to be taken in order to observe it.
Our ServiceMaster Clean experts have come together and produced an easy to follow cleaning program aimed at containing and ultimately preventing cross contamination in commercial facilities and healthcare facilities such as medical offices. This is critically important now as COVID-19 is still spreading but will remain relevant in later days, to prevent the spread of other pathogens.
Here are the three primary points to observe:
Use Approved and High Quality Cleaning and Sanitation Supplies
Cleaning in commercial facilities needs to be done with supplies meant to pick up not just the dust or dirt but also microbes. Microfiber cloths are one such example of a tool specially designed to keep surfaces maximally clean not just to the eye, but on a smaller level. Combined with clean water and a commercial grade detergent, a microfiber cloth will produce the best results.
But this alone is not enough. Once the surface is clean, it needs to be disinfected using a Health Canada approved disinfectant ensuring it does not contribute to cross-contamination.
Finally, for personal use on hands, an alcohol gel sanitizer needs to be made widely available across the facility for staff and visitor use.
Conduct Regular Environmental Cleaning Procedures
A more systematic approach to cleaning needs to be put in place to ensure the containment of germs and other pathogens. Focus needs to be placed on surfaces that get touched frequently, such as door handles, desks, telephones, elevator buttons, washroom flush handles, and last but not least, hand sanitizer dispensers. Those are easiest to overlook and can easily collect and spread bacteria.
Train and Encourage Practicing High Hygiene Standards
All employees need to be aware of the importance of proper hand washing. Make sure to do it thoroughly for 20 seconds or more, and frequently.
Call the experts at ServiceMaster Clean to learn more about our customized cleaning and disinfecting programs and the procedures we use to help prevent cross-contamination.