Keeping It Clean in a "Hotelling" Environment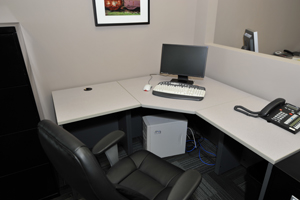 As companies seek to cut costs and address an increasingly mobile workforce, some employees have had to learn to share their workspace.
Unassigned workspaces have been a reality for consultants or employees who conduct business mostly on the road. But, a growing number of workers, who traditionally spend more time at the office, have had their cubicles replaced with unassigned desks they share with other employees; a concept called "hotelling".
Where employees used to have a dedicated desk with a phone and other equipment at their service, the new concept requires that the cubicles be used on sharing basis where the employees book the cubicles or other office equipment based on their needs.
Given this growing practice, companies must be more diligent than ever before about workstation sanitizing. Desks, phones and keyboards are key germ transfer points. Without regular workstation and equipment sanitizing, companies are exposing their employees to germs and bacteria that can lead to illness and increased absenteeism.
Proper work station cleaning includes sanitizing of work surfaces, telephones and other touch points, removing waste, dust and dirt particles from the premises, cleaning chairs, fabric panels and regular carpet cleaning performed by qualified and trained cleaning professionals.
Regular cleaning and sanitizing of shared workstations can go a long way to keeping employees happy and healthy.